Flying at Hurricane Factory is an unforgettable experience for your employees,
colleagues, business partners, or important clients.
ORIGINAL EVENTS AND TEAMBUILDINGS IN HURRICANE FACTORY
Hurricane Factory is a popular and original venue for various corporate events, teambulding and other events. Flying is a unique experience that breaks down barriers and relieves the atmosphere. We provide professional service to all participants, from lending complete equipment, providing professional briefing before the flight, to flying in the wind tunnel under the constant supervision of professional instructors.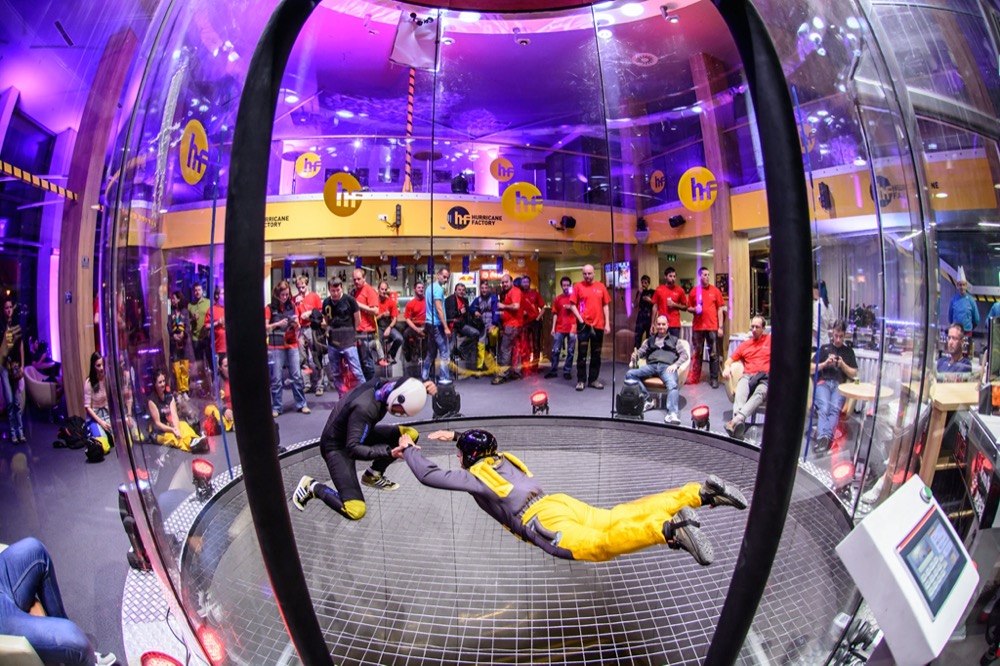 Hurricane Factory features a bar with direct views of the flight chamber, an ideal place for recording and taking photos. As a standard, we offer the option to purchase videos directly from flying. For corporate events it is possible to provide professional external catering and refreshments in the bar and adjacent galleries. The bar and gallery space has up to 35 seats, if necessary it is possible to close the space for a corporate event and increase the capacity to 50 seats.
For corporate clients we offer the following options:
Teambuilding activities
Gift cards
Workshops, presentations, trainings
Company parties and events
Unusual prizes for competitions
Pricelist – Company events
We will be happy to process the price for you.
60 SECONDS
IN HURRICANE
FACTORY
Equivalent to a plane jump
SAFE
AND FOR EVERYONE
From 5 to 100 years
FOTO
AND VIDEO
Available after flight